Good deals - Le Mans
Choose from a large choice of discounted offers from our favourite partners.
Our best deals in Le Mans
Domaine de la Courbe
Route de luché
72800 Le Lude
Tel +33 (0) 2 43 94 88 75
Cellular +33 (0) 6 87 24 92 35
E-mail info@domainedelacourbe.com
http://www.domainedelacourbe.com
This hotel offers a 10%discount upon presentation of your LD Lines ticket.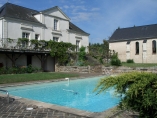 Le Bounty
D338
Village Mulsanne
Tel 02392 460 948 (UK) / 0800 849
E-mail info@fatfish-motorsport.co.uk
http://www.le-man-camping.co.uk/
Upon presentation of LD Lines ticket.
10% discount. (Cannot be used with any other special offer)
Le Bounty has become a popular retreat for seasoned race goers for the Le Mans 24 hrs, the Classic and the Le Mans Moto GP.
You can be assured of a warm reception from our resident English managers and the opportunity to meet and socialise with like minded race enthusiasts.
Le Bounty is located just off the D338, 4 km south of village of Mulsanne which lends its name to the famous Mulsanne Straight and Mulsanne Corner.
Excellently situated for those who wish to enjoy the Le Mans events at their own pace, without the hassle and excesses of "on circuit" camping, Le Bounty is far enough away to chill out yet close enough join in the action.
FREE Minibus Shuttle Service
Don't drink and drive. Park your car or bike for the duration of your stay and make use of frequent transfers to and from the circuit.
In 2011 Le Bounty was delighted to host the Le Mans 24 Pistonheads Friday meet and in 2012 they are hosting both the 24 hour & The Classic Friday meets.