About us

March 27, 2012
DFDS AND LOUIS DREYFUS ARMATEURS FORM JOINT COMPANY FOR CHANNEL FERRY ROUTES AND FRANCE-TUNISIA
DFDS and LOUIS DREYFUS ARMATEURS (LDA) have today entered into an agreement to form a new company that combines DFDS' and LD Lines' ferry routes in the Channel. From 1 July 2012, the new company will operate 9 passenger and freight ferries on four routes in the English Channel and one in the Mediterranean Sea, between France and Tunisia. DFDS will own 82 % of the company and LDA 18%.
The following routes will be included in the new company:
Dover-Dunkirk (Currently DFDS)
Dover-Calais (DFDS & LD Lines in partnership)
Portsmouth-Le Havre (Currently LD Lines)
Newhaven-Dieppe (Currently LD Lines)
Marseille-Tunis (Currently LD Lines)
LD Lines is a French ferry company and a 100% owned subsidiary of LDA. It was established in 2003 and currently operates four routes of which one route, the 'motorway of the sea' between Saint-Nazaire and Gijon, will not be included in the joint venture. LD Lines will transfer four chartered ships and one owned ship to the joint venture.
DFDS operates a network of 25 ferry routes and has extensive logistics activities. In the Channel, DFDS operates three ships on the Dover-Dunkirk route and, in partnership with LD lines, two ships on the newly inaugurated Dover-Calais route. Both operations will be transferred to the new company.
Stronger services
"The new company expands DFDS' route network in line with DFDS' strategy of creating a European shipping and logistics network. By combining the capabilities and operations of LD Lines and DFDS, a new and stronger company is formed that is well positioned to deliver the ferry services that are required by our customers in the very competitive market on the Channel," says Niels Smedegaard, CEO & President of the DFDS Group.
"This new company confirms our strategy to create a European leader in the Channel ferry business. All ships we bring will remain of course under the French flag. We strongly believe that this is the right answer to the many challenges the industry has to cope with and are confident this fully integrated network will offer our clients a unique flexibility" says Gildas Maire, President of LD Lines.
Press contact:
DGM Conseil
Michel Calzaroni & Tarick Dali
Tel +33 1 40 70 11 89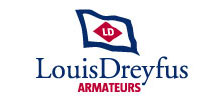 For over 100 years
LD Lines is a subsidiary of Louis Dreyfus Armateurs Group, a major player in maritime transport since 1904, now with a fleet of over 60 ships operating worldwide.
Partner of the world's major companies
Louis Dreyfus Armateurs is active in shipping and providing "tailor made" industrial solutions.
"Tailor made" industrial solutions
Besides regular maritime transportation, Louis Dreyfus Armateurs has developed a strong capacity for innovation, offering major industrial companies "made-to-measure" solutions.
Thus, Louis Dreyfus Armateurs is the maritime partner of Airbus Industries for transporting elements of the A380 from European manufacturers to Toulouse; of Alcatel for the laying of undersea cables; of the Compagnie Générale de Géophysique for off-shore oil research.

LD Lines Cross Channel ferry services operate ferries from France, to England, to Spain and soon to Tunisia. Exceptionally fast and convenient ferry services that bring you close to London and Paris respectively. All our ships are fully equipped with modern onboard facilities and are maintained to high standards, ensuring our passengers excellence in service and safety.
Choose the port and the time that suits you!

Transmanche Ferries was set up by the Syndicat Mixte de Promotion de l'Activité Transmanche, in order to preserve the Dieppe-Newhaven link. In 2007, in the context of a Delegation of Public Ownership Services agreement, the running of Transmanche Ferries was handed over to Louis Dreyfus Armateurs whose LD Lines company also operates cross channel service out of Le Havre.
So Transmanche Ferries and LD Lines have now become sister companies. This arrangement not only ensures the continuing development of the Newhaven-Dieppe line but has also made it possible to increase the frequency of cross-channel sailings in the central section of the Western Channel.

LOUIS DREYFUS ARMATEURS group has announced through its subsidiary, GLD ATLANTIQUE, the opening of the first Franco-Spanish motorway of the sea, linking the ports of Nantes Saint-Nazaire and Gijón. This follows the signing of a declaration on projects for two motorways of the sea between France and Spain by Dominique BUSSEREAU, the French Minister of State responsible for Transport, and his Spanish counterpart Magdalena ALVAREZ, back in February 2009.